ROCK reaches out to children with the following programs and invites you to help with your donations.  Please become a growth partner by making your online donations today (see the donate tab on the right of this page):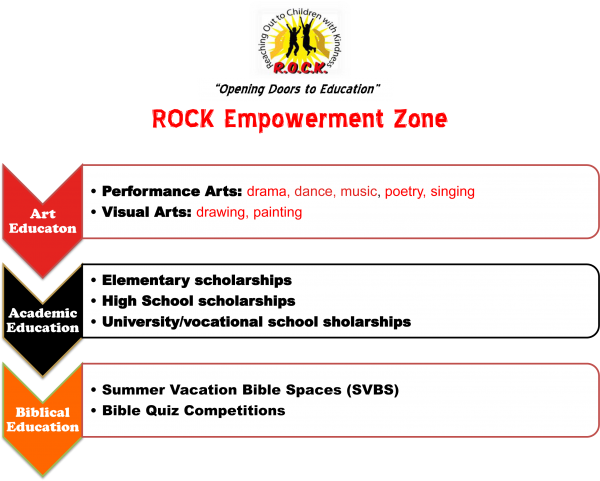 Educational Scholarship Sponsorships
 LIST OF FOOD FOR CHILDREN & TEENS
We welcome all non-perishable food items with dates that have not expired. Below are a number of examples of food items we will accept for our Barrel Ministry:
Canned or Dried Fruits and Vegetables:
e.g., Peaches,  fruit cups, tomatoes, pasta sauce  
Meat and other Protein sources:
e.g., Can or dried beans, Canned Meats such as chicken, Tuna, Mackerel, Corned Beef, Peanuts/peanut butter  
Grains and Carbohydrates
: e.g., Dried Pasta, Crackers, Oatmeal, Cereals of all kind, Rice, Cornmeal, Flour  
Other food items
: e.g., Hot chocolate powder, Tea, evaporated, powder, or shelf stable (e.g Parmalat) Milk, small juice boxes  
Please note the following list serves as a guideline and is not limited to the items above.
We also encourage you to donate school supplies.